Our Adult Workshops are back this fall 2022!
Join us up in Wrightwood, CA for an in-person Artist Exchange, Saturdays, Oct. 1 and Nov. 5th, 11:00 – 1:00 pm. As always, this is a free event and supplies are provided.
Come meet other artists, share ideas, and participate in some drawing exercises to open your creative channels. The workshop is open to any adult artists, professional or hobbyist. All that's needed is an interest in sharing and participating in a creative process. Register and read more about it here.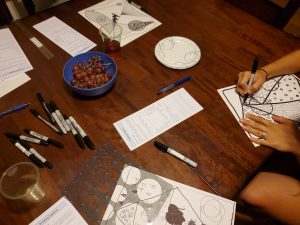 Drawing Together aims to offer monthly FREE workshops to the broader community to allow all interested to embody a creative experience, or reconnect with their artistic practice.
Sign-up to our newsletter to get updates on our workshops.