Drawing Together offers communities a comprehensive approach to addressing health concerns through creative and artistic techniques. The health outcomes and indicators are determine by the communities we work with. Below is a summary of some of our past community-based projects.
Visitors, V. 1 is our third community-based project.
This  is the first of a 2-part series of workbooks, art lessons, and art exhibitions that will be presented in the Spring of 2023. This community project will focus on the interconnectedness of humans and nature through the lens of natural systems that support life on this planet. People are essentially visitors on Earth, and no one person is responsible for the environment; however, we all have a unique relationship with it. Therefore, a collective effort must be cultivated to respect and care for nature. 
Picture Me Here, is our second community-based project, and first in Wrightwood, CA.
The goal of the project was to expose the rural community to a diverse group of contemporary artists. The project included a series of art assemblies for K-5 grade students at Wrightwood Elementary, a workbook, an exhibition with artist talk, and an adult workshop.
The exhibition opened on April 30, 2022 (closed on May 21, 2022) at the Wrightwood Arts Center in Wrightwood, CA. The exhibting artists included Teresa Flores, Ching Ching Cheng, Reyna Rivera, and A'Kailah Byrd-Greene. Their work included included painting, video work, textile, drawing, glasswork and more.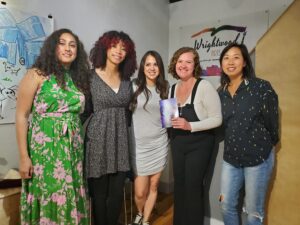 A Mindfulness Drawing Tool for Teens was our 1st community-based project.
The format developed during the pandemic uses a workbook designed to address teen isolation and suicidal ideation, as health indicators identified by the Pasadena Health Department in 2019. It uses drawing exercises through the lens of mindfulness. Both drawing and mindfulness are practices that can help with coping and emotional regulation, no matter who you are, where you live, or what you're going through.
This project took place in 2020 and offered virtual workshops during the pandemic. Other community based organizations helped us distribute over 150 workbooks to teens in the Pasadena area.